To my luck I got the ticket as an early birthday present from Sestra and
Joonas
so I didn't have to worry about the fact that the tickets were sold out in 58 hours or so.
Due to the fact that cosplay hasn't been my priority during the last 2 years - after I managed to crossplay as Edward Elric I haven't really been that excited over the hobby - especially since pen palling is expensive in the long run :) Even during Desucon Frostbite 2013 I didn't cosplay and only spent the first day in the convention area. Desucon 2013 was going to be the same as I was told I would have to go to Jyväskylä to look after my 6 + 8 years old cousins but luckily I was able to postpone it until Monday after the convention.
And as school has been a pain in the ass, Kim has been in Lapland and I haven't even really thought about cosplaying I made some easy choices for the cosplays of Desucon 2013 - June 14th-16th.
Friday
Short day so I decided to try one of my two upcoming fem!cosplays :) I thought I'd start with the easier and go with
fem!Kyo from Fruits Basket (gender bending is so much fun~).
I've had the beads for it since I was 14 (only had to paint the blue ones black - didn't feel like fighting with red/reddish brown paint just to follow the manga), long orange wig has been in my closet for almost 2 years (never managed to do the costume it was bought for), I have black t-shirts and other tops and I've been talking about the skirt with Kim.. Only things that I'm missing are the shoes~
Chose the character as Furuba is one of the first series I managed to watch from the beginning to the end (apart from Magic Knight Rayearth and FullMetal Alchemist) and I've always loved Kyo as a character - especially after I got all the 23 mangas with 75€ last autumn :3
Saturday
The day is still in a way open but so far I've thought about going with
Hikari Konohana from Strawberry Panic!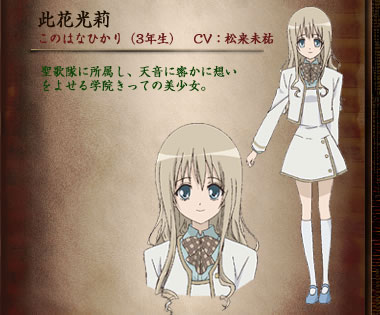 I have some photos of the costume from last year's Frostbite but as it was cold and I had a bad day during Saturday when I had the costume on (crying and so on). So it would be nice to get some more pics and OUTSIDE :D
And I want a couple of more pictures before I need to destroy my white knee socks for another costume :)
Kim
,
Ninnu
, me,
ElyonToWendy
and Ansku are
supposed
to have a small Kuroshitsuji Noah's Arc group :)
Kim is Beast, Ninnu is Peter (our little cute boy :3), ElyonToWendy is Wendy, Ansku is Joker and I'm Doll.
The Doll costume is Kim's (she made it back in 2010) and I used it once back in Desucon 2011 and we were supposed to have our first Noah's Arc group (me, Kim and ElyonToWendy) back in Tracon VI (2011) but as I got sick a week before and the fever just rose during the morning we were supposed to leave Kim forced me to stay behind and rest even though I would have rather gone with them (it was only like 38
°C/100
.4°F).. So now we decided to try again with a bit bigger group :)
LOVE the character so much :)
And if everything goes as planned I should have 2 new cosplays in Tracon VIII (not going to Animecon).



Saturday/Sunday

(days haven't been decided)
LUV the game :3
And Anarchy Panty from
Panty & Stocking with Garterbelt
- Kim will be Anarchy Stocking
Watched the series back in 2010-2011 (I think I was sick when I watched the whole series in one go) so I decided to check the special episode a while ago and I can actually say that I didn't remember that the series was like THAT...
Once again, I've had the wig for nearly a year~