After the week I spent mostly at my parents' place I'm still behind with my letters.. One of the biggest reasons might be the fact that I was more or less sick during the week and slept most of the days.
I did write and send some mail as well as receive some but that post will come a bit later.
After last week I've been quite down and felt powerless to do anything. I received a lovely letter from my (currently) "oldest" (been writing with her for the longest time) pal but couldn't find the power to start writing letters - usually her letters do cheer me up no matter what and I finish 2-3 letters during the day I receive one from her.. But not this time.. I just mostly lay in bed and do nothing (usually includes something to eat and 10+ episodes of Criminal Minds)
via weheartit.com
While I was writing a normal length letter last week I realized that Australia did leave its mark in me even though it's been nearly 13 years since I came back to Finland.. I still don't know some of the names of the Australian animals or birds. I could google these in Finnish but I don't want to.
Some examples: echidna (learned to spell that during the first weeks), Tasmanian devil (I heard that the official name is not "Tasmaanian tuholainen" - so what is it?), Kookaburra and Rainbow lorikeet.

When I lived near Brisbane at my great uncle's place I saw Australian birds daily! They had this awesome balcony where they fed the various birds (the white cockatoo being the worst visitor as those like to destroy everything - even though they look oh so pretty). The most frequent visitors were rainbow lorikeets and I was fortunate enough to even feed the wild birds. I had some food on my hand and offered it to the birds and at best I had 3-5 birds on my hand eating and trying to bite my hand (it only tickled). The special visits from Kookaburras were once every second week and I loved it when my great uncle showed me what kind of sausages even the birds won't eat!!
During the days the balcony was filled with birds but during the nights we got opossums and fruit bats! And we had geckos walking on the windows. It was amazing and there was always some life no matter the time! To be able to live so close to wild animals in Australia was an experience like no other!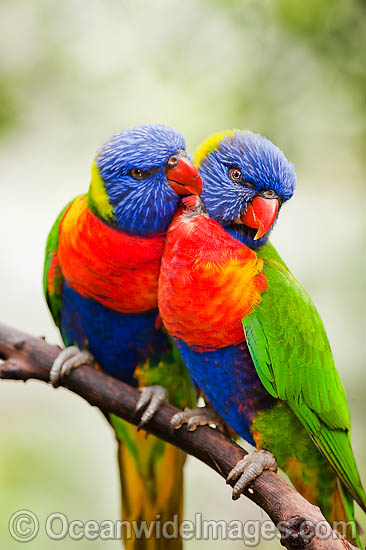 And just look at how pretty the Rainbow lorikeets are!
As I'm a bit sick currently (spending the whole day at bed) I'll continue with the frigging school work and try to write a letter or two..
~Lily