via
I'm alive (although I don't quite feel like it) and I'm currently catching up with my huge letter pile. Only 2 more letters in Finnish (I currently have 10 Finnish pals and they've bee waiting for my reply since October (all thanks to school.......) and then I'll move on to the ones I need to write in English. I've been a bit sick after I came from London so my mind is a mess and I don't want to write letters in English before I'm done with the Finnish ones and quite healthy :)
The next cosplay convention is held January 14-15th and I have (hopefully) 2 different costumes :) On Saturday I'll be a part of a cosplay group and the series is........
Strawberry Panic!
(GOD I HATE THAT SERIES!!! D: I started watching it when I was 15 or 16 and I'm still at the 18th episode (same problem with Chobits~) shoujo-ai just isn't for me :()
Anyways~ Kimmy bribed me (talked me in) and I'll be cosplaying:
Hikari Konohana from St. Spica's Girls' Institute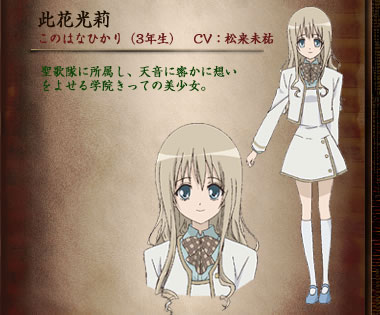 Sunday's cosplay is still a secret but I'll be cosplaying with Kimmy. I'll be one of my favourite anime characters (I've wanted to cosplay as her ever since I saw her - one reason could be that she acts a lot like me (Tsundere.)) ~Orange wig~ ;)
Let's hope that my ebay orders will arrive on time! I bought a second wig for Hikari (the first one was WAY too dark) and a shirt for my second costume.. But we'll see :S If those won't arrive I'm screwed.
I also registered myself to a new cosplay site:
WorldCosplay
Everyone else has done that so why wouldn't I?
The stalkers can find me
HERE
. :)
Due to the lack of photos in my lappies (yup, I got 2 babies :3) and me being too lazy to go and get my external hard drive there are only 6 photos (Ed & Fuu). I might update it after Frostbite or let it die lonely and forgotten :) We'll see~
But I guess that's about it for now.
I'm sick and rotting away in my room until January 6th so people are allowed to "disturb" me :)
Take care~
~Lily
ps. Find me in
Tumblr